Are you in quest of building your own business? Do you like the idea of owning two shops despite having one listing on Etsy? Do you prefer your own created website to gather more audience?
What are Patterns by Etsy
What if we told you that Etsy itself will help you out at this? What if we told you that the associated costs here are next to none? This is what Patterns by Etsy are all about. It gives you the power to set up your own website as a unique brand and sell stuff beyond the Etsy marketplace. This is done in order to make you more profitable. How? Keep reading, you don't want to miss out on this!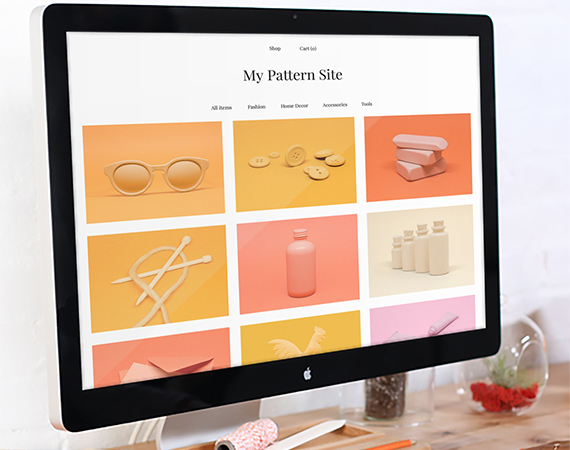 Benefits of Patterns
The pertinent question that arises is why even subscribe to Patterns by Etsy? In the grander scheme of things, this is Etsy's way of helping your business flourish, without making any compromises.
With Patterns by Etsy, you get the benefit of wider audience reach, easy mailing of products, being able to open two shops so to speak, and in general, more convenience. Sounds interesting, right? And the fun doesn't end here because there are tons of other additional benefits as well!
Additional Features
As a seller, you ought to know if your investments are worth it. This case is no different either. When it comes to the benefits of subscribing to Patterns by Etsy, here are the most common reasons—these are the features that you will unlock once you open up shop using Patterns.
Custom Content
Being able to sell your items requires you to market them efficiently. In modern times, you need to be expressive enough to reach out to your audience. Patterns by Etsy provides you that platform wherein you can fully express what you think about your products.
Patterns by Etsy enables you to create custom content for your listings. Unlike the one on Etsy's own website, the one here isn't character-bound per se. You can also add information such as an expansive gallery, elaborate colors, and contact details.
You can choose to be as eloquent as you'd want. This would also put your product in good light, especially when the customer is redirected to your page on Patterns from Etsy's own website.
Custom Inventory
It might just be the case that you want to showcase specific inventories outside of the core Etsy website. Patterns by Etsy enable you to do that. You can manage and choose the kind of listings you want on the core website, and what you want here. Additionally, you can choose the layout of showing the kind of inventory you are packing.
Having a custom inventory is beneficial in two ways. Firstly, you don't have to keep all your items on the Etsy website. You can instead make your customers visit Patterns. Secondly, you can use this feature to release seasonal or limited-time products to make yourself more valuable.
Marketing Resources
Social media and reaching out, in general, is something that every modern-day business needs to do. In order to ensure that new launches or exclusive product announcements reach the ears and eyes of your audience, you will need to create that demand too.
Marketing resources are abundant in Patterns. Rest assured, your audience will get notifications across AdWords, Mailchimp, Facebook, and similar avenues. It is often said, your ETSY SEO is much better on patterns because of the easy availability of changing page titles and descriptions.
Integration with MailChimp
Patterns is also deeply integrated with MailChimp. This would enable you to approach not only older audiences with new and lucrative offers but also newer audiences who will potentially generate great revenue.
MailChimp would help you to re-engage with your customers by specifically targeting their emails and pushing your notifications to them. You can also create announcements as well as news updates.
Blog
As we have mentioned, it is not possible to be entirely explicit about your product on Etsy's own website. Owing to limits in characters and texts, you simply can't write much about yourself and your listings.
This is why Etsy has its blog functionality that allows you to write as much as you want. Who you are, what your product lining stands for, how you envisioned it in the first place—all can be now expressed in Patterns by Etsy. You can also redirect listings from the core website to the blog sections on Patterns.
Buyer Reviews
In order to establish greater credibility, your Etsy reviews also appear in Patterns. This makes for a great way for new buyers to be double-sure that they are getting their money's worth. With extensive buyer reviews, you can now develop a strong sense of trust.
Your Own Domain
Having your own domain provides massive professional credibility to your business. Not only that, but it also makes your listings and your brand extremely visible. On the lighter side of things, having your own domain would make you look like one of those cool and tech-savvy companies. Thankfully, with Patterns, all of it is now possible.
Does Pattern Charge Fees?
With a minuscule ask of about $15 USD a month (plus tax as applicable), the price you pay is nothing. The fact that Etsy implores you to expand beyond its own marketplace and boost online sales is incomparable to the negligible fees. If you just want to test the waters first, you can avail a 30-day trial as well. Keep in mind that the $15USD tag gets converted to your own currency. But the benefits you get in return? Indescribable.